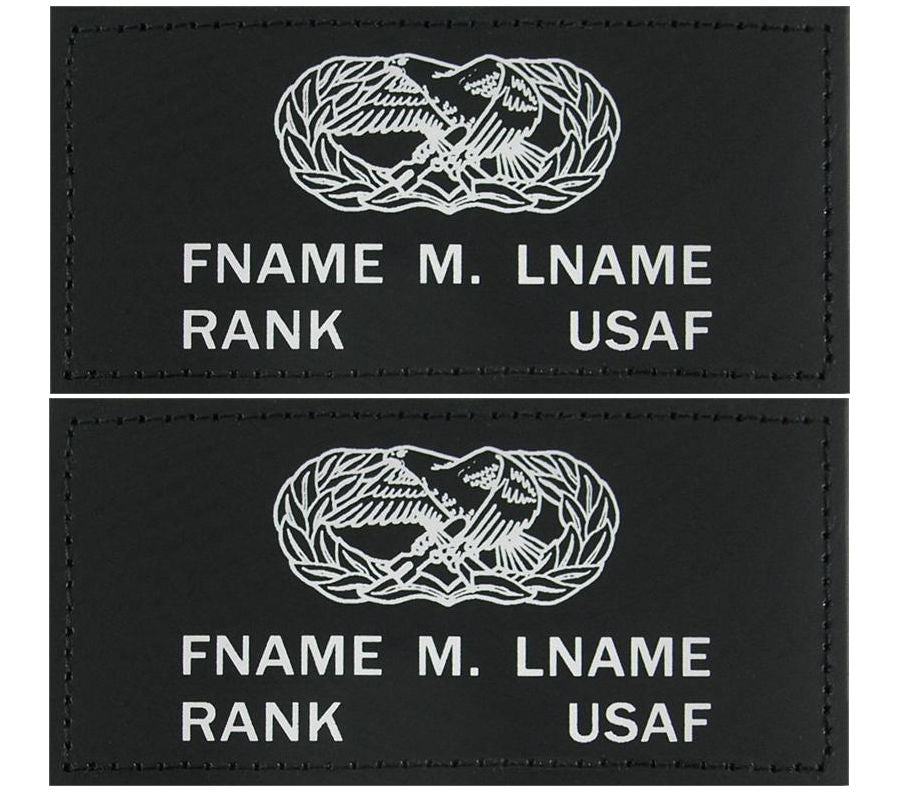 U.S. Air Force Leather Flight Badge - BLACK - 1 Pair
In stock
Stamp Color for Text & Insignia:
Stamp Color for Text & Insignia
To View Images of U.S. Air Force Insignia - Click Here
When you Order Quantity 1 you will receive 1 Pair / 2 Flight Badges
High quality smooth black leather
Two lines of personalized text information
Hook Fastener Backing
Choose between silver or gold stamping
Made in USA
Air Force black leather flight badges that can be customized with choice of insignia, two lines of text, foil stamping colors and hook backing. Each badge is 2 x 4 inches in size and the product picture shows one made to Air Force regulations.
ORDERING INSTRUCTIONS: Please type the text information for the 1st and 2nd lines that you would like stamped on the badges, this includes periods and all other text characters. If you wish to leave a line blank, please type LEAVE BLANK in that line. We can get approximately 30 characters per line when using a condensed font.
IMPORTANT PLEASE READ: These Flight Badges are custom made-to-order and currently are taking 2-4 business days to produce due to the extremely high demand. We do not produce on Saturdays & Sundays. Please add this to your shipping time and plan accordingly. Thank you for your understanding in this matter.
We ship orders within 1-2 business days after the order has been placed.  The only exception would be for orders containing customized items (ex: Name Tapes), where it takes 3-6 business days to ship.
We provide shipping at a low rate to all customers within the continental United States. We will choose the best service (UPS or USPS ) on a per-order basis at the time of shipment.
For our customers in APO/FPO locations, Alaska, Hawaii, and U.S. Territories we will need to apply shipping charges due to the expensive nature of sending orders to these locations. Please note that we have done our very best to offer our customers in these regions a fair shipping rate.
NOTE: Some products will require an additional 3-5 business days to prepare for shipping. If you have any questions, please contact customer service via email at cs@militaryuniformsupply.com.