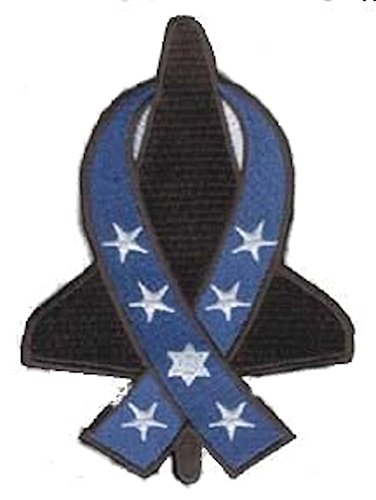 NASA Space Shuttle Columbia Commemorative Patch - BLUE RIBBON
Commemorative Patch for Space Shuttle Columbia and its Crew
Patch features silhouette of Columbia draped in a Blue Ribbon
7 Stars is tribute to the heroes of STS-107
Space Shuttle Destroyed on February 1st, 2003 during re-entry
SIZE: 3 inches in Diameter
Great Collector's Item or Gift Idea
NASA's Space Shuttle Program began in 1981 and ended in 2011. Five Space Shuttles flew a total of 135 Flights. The NASA fleet included Space Shuttle Atlantis, Space Shuttle Discovery, Space Shuttle Endeavor, Space Shuttle Columbia, and Space Shuttle Challenger. Two tragic disasters destroyed Space Shuttle Challenger and its crew in 1986 and Space Shuttle Columbia and its crew in 2003.
We ship orders within 1-2 business days after the order has been placed.  The only exception would be for orders containing customized items (ex: Name Tapes), where it takes 3-6 business days to ship.
We provide shipping at a low rate to all customers within the continental United States. We will choose the best service (UPS or USPS ) on a per-order basis at the time of shipment.
For our customers in APO/FPO locations, Alaska, Hawaii, and U.S. Territories we will need to apply shipping charges due to the expensive nature of sending orders to these locations. Please note that we have done our very best to offer our customers in these regions a fair shipping rate.
NOTE: Some products will require an additional 3-5 business days to prepare for shipping. If you have any questions, please contact customer service via email at cs@militaryuniformsupply.com.