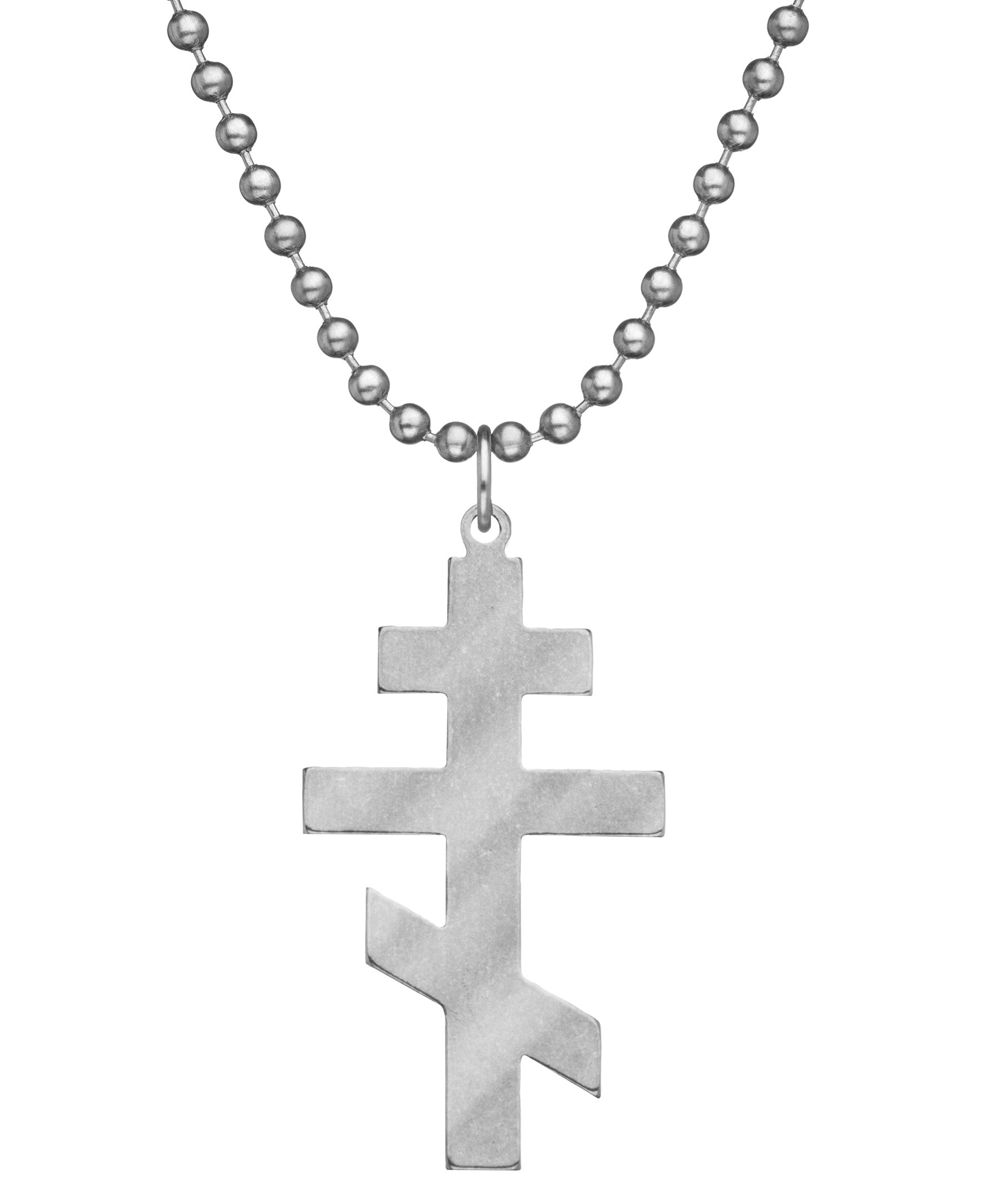 Genuine U.S. Military Issue Orthodox Cross Necklace with Dog Tag Chain
Tough Stainless Steel Necklace for Greek Orthodox Americans

Genuine U.S. Military Issue - Made in U.S.A.
Approximately 1 inch tall with 24 inch Dog Tag Chain
This Cross consists of three bars, with the lowest one being slanted. The top bar represents the INRI sign placed over Jesus' head; the slanted bar represents the eternal fate of two thieves which were on the Crosses beside him. The thief on the left rejected Christ whereas the thief on the right confessed Christ, and was promised a place with him in Paradise.
We have many Greek Orthodox Americans serving in our Armed Forces. For them, we've made tough this Genuine U.S. Military Issue Orthodox Cross is precision carved out of non-magnetic, non-reactive, brite finished, 100% 304 stainless steel.
We ship orders within 1-2 business days after the order has been placed.  The only exception would be for orders containing customized items (ex: Name Tapes), where it takes 3-6 business days to ship.
We provide shipping at a low rate to all customers within the continental United States. We will choose the best service (UPS or USPS ) on a per-order basis at the time of shipment.
For our customers in APO/FPO locations, Alaska, Hawaii, and U.S. Territories we will need to apply shipping charges due to the expensive nature of sending orders to these locations. Please note that we have done our very best to offer our customers in these regions a fair shipping rate.
NOTE: Some products will require an additional 3-5 business days to prepare for shipping. If you have any questions, please contact customer service via email at cs@militaryuniformsupply.com.